Welcome to My Joy-Ku Page!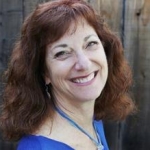 Joy-ku is my name for Haiku I've written with joy (and the challenges to joy) as the main theme.
Haiku is a Japanese style of poetry that translates loosely to seventeen syllables in three lines.
Usually, the first and third line are five syllables and the middle is seven. A reference to nature and/or the season is typically included. It is my pleasure to share with you the following Joy-Ku!
Does your life matter?
Notice the fleeting joy
Just one rainbow brings
Like morning coffee
Intimacy with your self
An acquired taste
Sunshine after rain
Crow cries my heart open
Caw, caw, caw, joy, joy
A flea bides her time
On the back of an eagle
Together they land
Optimize desire
so manifesting muscles
can run marathons of bliss
Serendipity
Or is magic in the air,
a stranger's smile
Get off your high horse
Love the whole dang shootin' match
Even your own life
Easy making wrong turns
When Heart's wisdom is not heard
Like sun kept outside
Cat meditating
The original "No thought"
Only purring joy
Wind came and went
Blowing cobwebs from my heart
Some are mighty tough
Ack! Expectations
Short route to stifle love and
constrict happiness
Roses open to the sun
The way intimate friendships
Blossom over time
Estrangement from self
Morphs into deep connection
When springtime matures
Open heart fully
Intimacy with your self
Love's prerequisite
Hawk's insistent cry
Calls me forth from my slumber
Now, my friend, now, now
Your heart in my hand
A dangerous slippery slope?
or grand adventure?
Lambs birthed in winter
Renew to us our innocence
Released from long nights
Oaks naked branches
Roots planted in azure sky
Seeds safe underground
Lovers everywhere
dust in sunbeams carries love
Back into our hearts
Holiday humbug?
hum song that doesn't bug you
Joy to the world
Mind full of cobwebs
Sweep false memories into
the infinite bliss
Wind came and went
Blowing cobwebs from my heart
Some are mighty tough
Red/yellow grapevines
Singing, this is all there is
Praises to our hearts
Just before dawn light
Falling star like autumn leaf
Jumpstarts inner sight
Driver oh driver
Thank you for driving so slow
Oh teacher of patience
Above the vineyard
Redwoods dance across the ridge
As if they belong
Today sky is blue
Transition blues yesterday
Fog hovers at Bay
We are not alone
In training for who we are
In good company
It is willingness
to receive that is the gift
Fodder for the giver
In the midst of change
I cling to continuity-
Candlelight and love
Grape vine spoke to me
Don't take life so seriously
grow fecund with love
Expectations, the
nemesis of contentment
Sun doesn't demand
Two feet on the earth
While a stork balances the
sun & moon on one leg